History Of Emerald Isle, North Carolina
Native Americans, fishermen, and summer tourists all have walked through the pristine sands of Emerald Isle, North Carolina; and the recurring theme of preserving the coastal enclave's peaceful seaside setting has resonated through the years.
It is believed the Algonquin Indian tribe first inhabited Emerald Isle, North Carolina, taking residence in the area around 500 A.D.  English settlers moved into the area in the early 1700s, battling the pirates who operated offshore.
The first real focused movement to develop Emerald Isle, North Carolina, came in the 1920s.  Henry Fort, owner of the land and beaches, had visions of designing a large tourist attraction.  Fort's dream never came to fruition, though; he died, and the land was inherited by Anita Maulick, Fort's daughter.
She held the land until the early 1950s, selling it for $350,000 to seven North Carolina developers who divided Emerald Isle, North Carolina, into 1,100-foot blocks – stretching the width of the island from the Atlantic Ocean to Bogue Sound.  Doing this kept commercial developers from inundating the coastline with high-rise buildings, protecting the island's breathtaking natural setting and seclusion.  Eventually, families started moving to the island, and the state of North Carolina began public ferry service in the early 1960s.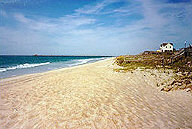 As word spread about Emerald Isle's natural beauty, more people arrived.  In 1972, the Cameron Langston Bridge opened, spanning the Intracoastal Waterway and providing direct access to the western end of the island.  Not having to wait on the ferry meant people started pouring onto the island; a major acceleration of development soon followed.
But through the past 36 years, Emerald Isle's leadership has worked with the state of North Carolina to ensure development doesn't overwhelm the island.  Today, the town's permanent population is 3,488 (according to the 2000 U.S. Census), and a smattering of homes line the wind-swept oceanfront.  Even though up to 50,000 visitors come calling each summer, Emerald Isle in many ways remains the quiet, calm seaside spit of land it was when Native Americans settled there 1,500 years ago.
Leave a Reply
You must be logged in to post a comment.